People ask us all the time if our flat cables are really twisted pairs. Due to an old misconception they are always surprised by our response.
Thanks to technical development, it is nowadays possible to have flat cables as Shielded and Unshielded Twisted Pairs, which are in no way inferior to conventional round cables in terms of performance.
Don't believe us? Let's take a closer look at the inside of one of our cables. To prove this, we cut open one of our UTP flat cables.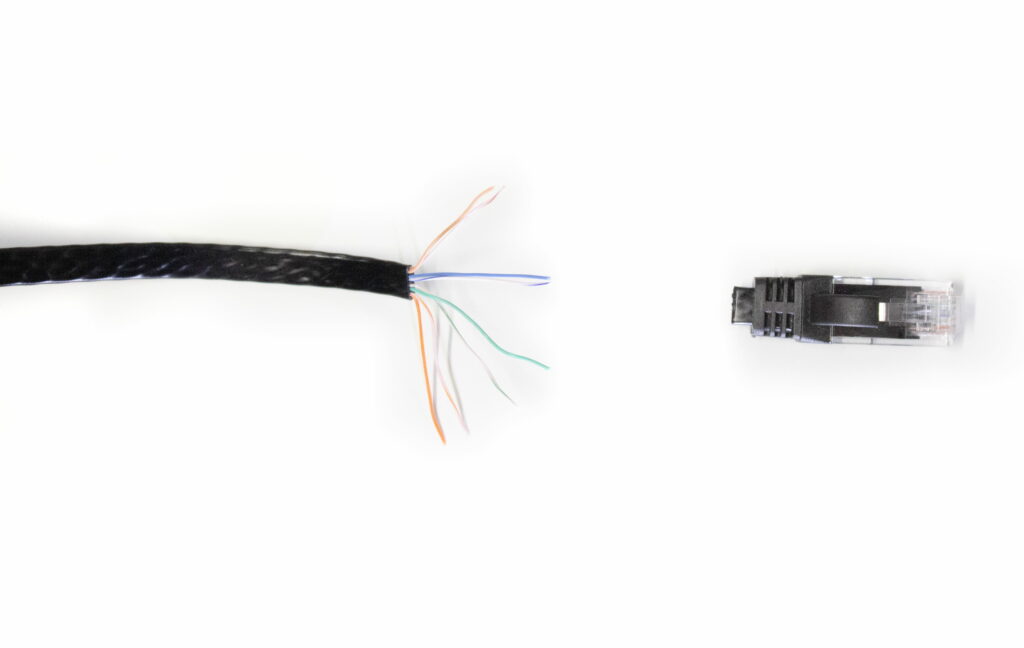 Are the flat cables worse than round ones?
No, they are not. Our Cat.6a cables are tested up to ISO/IEC 11801 Ea Class and ANSI/EIA/TIA-568 Cat 6A Channel standards and RoHS compliant.
And just like with any other Cat.6a cable Power over Ethernet can be used to power devices. Our STP version is capable of PoE, the UTP version even of PoE++ Type 3.
Our flat cables are more flexible and less bulky than conventional round cables. They take up less space in the rack, especially in a harness, are easier to handle and not prone to breakage.
This makes them perfect for network cabling, hence why we use them in our PATCHBOX. Our innovative cable management system as well as the cables inside (Cat.6a and Fiber Optic) are covered by a 5-year warranty.
Why the twisting of wire pairs is important
The twisting of wire pairs in a patch cable is an important feature that helps to reduce electromagnetic interference and crosstalk between the pairs.
When two wires carrying electrical signals are positioned next to each other, electromagnetic interference can occur, which can cause distortion of the signals and make it difficult for the receiver to correctly interpret the signals.
To mitigate this problem, the wires are twisted together in a patch cable. The twisting of the wires changes the electromagnetic field that surrounds the wires, effectively canceling out any interference that may occur between the wires.
The twists in the wire pairs help to ensure that the signal is not affected by external electromagnetic fields or by other signals transmitted in close proximity to the patch cable.
The issue with Twisted Pair Short Patch Cables
When using short patch cables (less than 50 cm/19,68 inches), however, the twisting of the wire pairs may not be sufficient to cancel out all sources of interference.
This is because short patch cables have less wire length, so there are fewer twists in the wire pairs to act against interferences. We wrote about Short Patch Cables in more detail here.
As a result, NEXT can be more likely to occur, since the twisted pairs have less time to act against interference.
When two cables are in close proximity, the electrical signals on one cable can interfere with the signals on the adjacent cable, which can cause errors and reduce network performance.
To mitigate the risk of NEXT and other types of interference, it is recommended to use longer patch cables (> 50 cm/19.68 inches) with sufficient twisting of the wire pairs.
Or simply use a PATCHBOX with retractable patch cables. Thanks to its pulley system the cables are always in the required length, with the rest of the cable stored where it does not bother you: inside each cassette.
This makes network cabling an easier, more efficient and more sustainable task, keeping the network rack organized in the long-term.
Download our Free Product Brochure
Simplify your IT. Download our product brochure for free as PDF – in English, German, Italian or French.