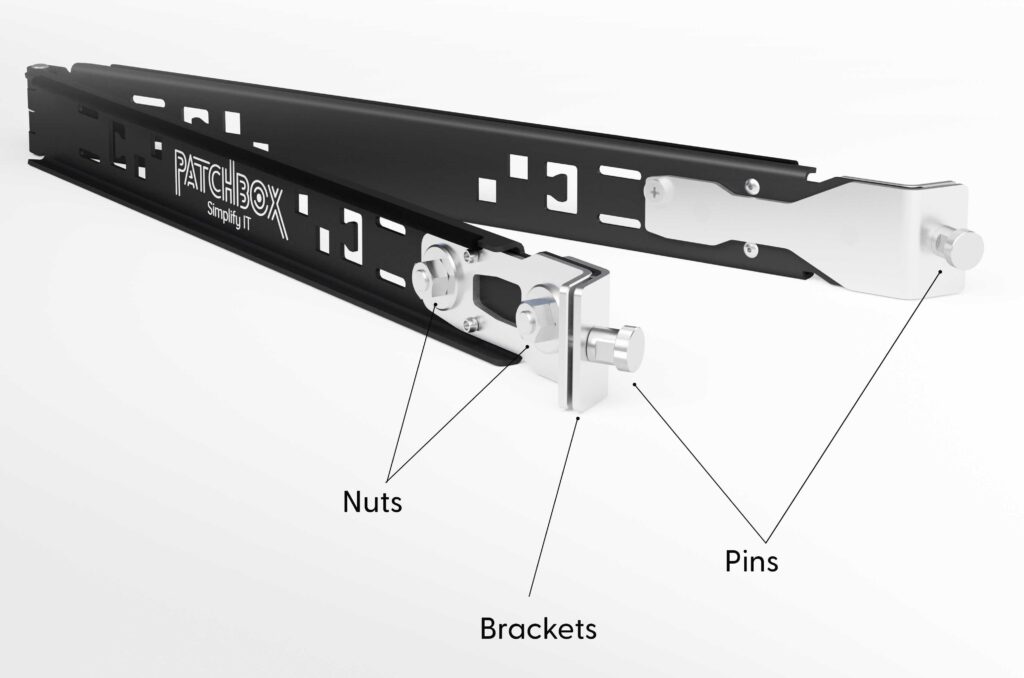 Step 1:
The Setup.exe is compatible with threaded holes as well as square punched holes. By default, it is equipped with bolts for square punched holes. If you have a network rack with threaded holes, you first need to change the bolts.

Step 2:
Loosen the bolts on both brackets with a wrench (10mm or 3/8″) and remove them.
Step 3:
Now take the other bolts and put them in the holes.

Step 4:
Adjust the brackets: The brackets might be set too wide or narrow for the thickness of your 19" rail.

Step 5:
To adjust it, loosen both nuts on one side with a wrench (13mm or 1/2″). You can now slide the inner part of the brackets and adjust it to your 19" rail.

Step 6:
With the loosened nuts, slide the Setup.exe brackets over the 19" rail, push the brackets together by hand, and tighten the nuts. The brackets should sit firm on the 19" rail but can have some leeway. Remove the Setup.exe from the 19" rail and then further tighten the nuts again.

Step 7:
The Setup.exe should be placed one rack unit below the rack unit, where you want to mount hardware (max. 50kg/110lbs). Align the Setup.exe to the 19" rail – do not open it just yet. The 19" rail should fit right between the brackets.

Step 8:
Pull the pin of the Setup.exe bracket, ensuring it locks in the hole of the 19" rail.

Step 9:
Secure the Setup.exe to the opposite side again, ensuring the Setup.exe's pin locks in the 19" rail.

Step 10:
The Setup.exe has two sides – one side with rubber to securely hold your laptop and the other side for installation to guide hardware into the network rack easily.

Step 11:
To remove the Setup.exe, pull the pin to unlock it from the 19" rail. Close the Setup.exe and repeat the process on the other side.